Tonight, my friend and I saw the romantic comedy Isn't It Romantic? starring Rebel Wilson as Natalie, a New York architect who works hard to get noticed at her job but is more likely to deliver coffee and bagels than design the city's next skyscraper. She gets knocked unconscious in a subway mugging and wakes up to find herself in an alternate universe. Disenchanted by love, Natalie's worst nightmare comes true when she suddenly realizes she is playing the leading lady in a real-life romantic comedy.
The movie's self-awareness about the many clichés of romantic comedies make it a joy to watch. It also features several themes about the importance of vision and love.
Worthy of Love
As a young girl, Natalie loved watching the classic romantic comedy Pretty Woman with Julia Roberts and Richard Gere. Her mom says, "It's just a movie…life's not a fairy tale. Girls like us don't get that." Young Natalie asks why. Natalie's mom responds, "Well, look in the mirror, doll. We're no Julia Roberts."
In that moment, Natalie's mom showed her a skewed, lesser vision of herself, her beauty, her worth, and love and shattered her dreams. Natalie believed her mom. 25 years later, this vision manifests in her daily life. She gets used to poor treatment by others at work. Even her pet dog ignores her. Her project manager Josh likes her, but she keeps friend-zoning him.
Be Open, Be Seen
While at work, Natalie's best friend and assistant Whitney (Betty Gilpin) watches romantic comedies. Natalie rants about the evils of these movies to Whitney who says, "I think people would have an easier time seeing you if you were a little more open."
F.L.Y. – First Love Yourself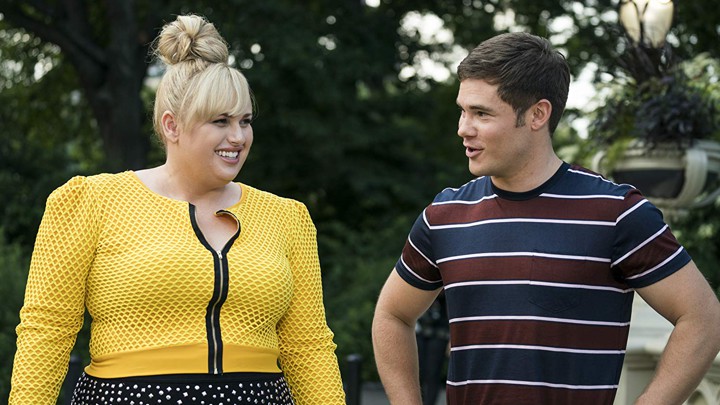 While living in a romantic comedy world, Natalie learns that her best friend Josh (Adam Devine) will marry Isabella (Priyanka Chopra), the Pantene model he only met and dated for a few days. Natalie realizes that she loves Josh and tries to stop the wedding by making him fall for her at a karaoke bar. It does not work. On the day of the wedding, she races to the church and bursts into the ceremony only to realize that she now loves…herself.
Love for herself changes Natalie and her interactions with others. She stops taking out the trash and doing other people's tasks. She confidently presents her idea at work. And she learns that while she sits in front of an ad of the Pantene cover girl (Priyanka Chopra), Josh is watching her.
God's Message to Me
For all its satire and cheese, Isn't It Romantic? sends an important message about self love that I needed to hear. At the end of the movie, my mind went back to part of a prophetic word I received from a gentleman named Joey during the Bethel Conference in California on Valentine's Day:
"Self love will be a major hallmark of your ministry. God will keep telling you over and over again how much He loves you until it clicks with you."
Isn't It Romantic? was a love note from Daddy God for me. Thank You, Lord.Tagged Adam Devine, beauty, Betty Gilpin, Confidence, Isn't It Romantic, Josh, Julia Roberts, Love, Natalie, Pretty Woman, Priyanka Chopra, Rebel Wilson, romantic comedy, self love, vision, Whitney, worthy